Small Business, Big Impact: How ABROADER supports Vietnamese start-ups like OMT

Share the post
This story originally appeared on Abroader's website
There is a known fact about startup companies in Vietnam is that they are strong, energic, and passionate about what they are doing. However, while finding a way to expand their business abroad, they meet many challenges in foreign languages and how to work effectively with international partners. Abroader created a local start-up supporting project – Startup Vietnam Abroad, to cater to such needs.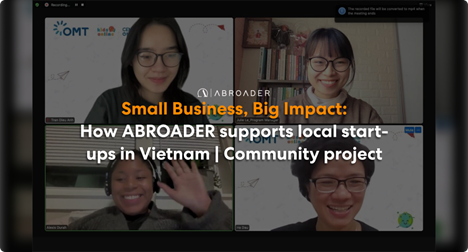 With an effort to root for developments in Vietnamese enterprises, the mission of Startup Vietnam Abroad is to coordinate international interns from ABROADER to work at startup companies. What the interns can do are:
– Practice and contribute as a local full-time staff for 40 working hours per week based on their majors, preferences, and capabilities. It can range from Marketing, Business Development to Product research and development.
– Help the local staff with English communication and writing skills.

It sounds simple but if the interns do well, they can contribute significantly to the companies. One such story is with OMT. In 2022, Abroader sent to OMT one intern working remotely from the U.S. She never taught English before, but she feels like she would like to try a couple of hours per week during her university time. She signed up for the English teaching project. Her students are staff of OMT, a Vietnamese edtech start-up who wants to expand their business abroad. In order to code products, they must understand and can communicate with the clients in English. So, every day, after working hours in Vietnam, they have online English communication lessons.

It was a bit stressful from the beginning for the intern when she had to prepare the lessons, and a bit shy from the Vietnamese learners. But after three months, after one hour of communicating with the intern, they all now are confident. And the CEO of OMT was so happy to see the improvement in the staff.

How about the intern? No matter what position they are doing at the company, the first thing they can learn is about the industry that the company is doing, then the skills and especially the feeling of overcoming all the challenges working with foreigners with time zone, and language barriers that they would hardly get at universities.
---
---