Sustained impact from UNICEF-supported digital literacy programme in Vietnam

Share the post
Digital literacy is essential for children to succeed in today's interconnected world, but currently only 36% of children and youth 15 to 24 years old in Vietnam have this skill, and this figure is much lower for children from ethnic groups in remote areas.
In this video, Ms Tuyet, the Digital Education Officer of UNICEF Vietnam speaks about UNICEF Vietnam's work with partners like CFC and technology partner OMT to ensure children in Vietnam have equal opportunities to learn and use technology, no matter where they live or what their abilities are.  This includes promoting digital inclusion in multiple aspects, like designing accessible platforms, disability-friendly materials and digital contents in local languages.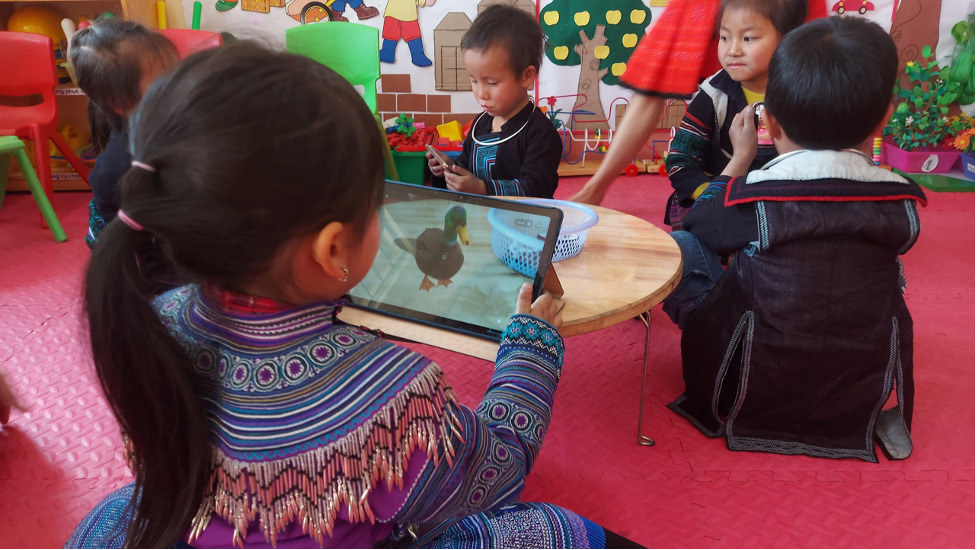 During 2020-2021, with funding from UNICEF, CFC and OMT implemented a project to pilot AVR-enabled learning resources at pre-school & secondary schools in a number of cities and provinces in Vietnam, starting with Hanoi, Lao Cai, Kon Tum and Dong Thap.Forpreschool children, having this experience with augmented reality (AR) and virtual reality (VR) has been one of the most engaging ways for them to learn about the world of animals, developing digital literacy skills early on along with social emotional learning, as well as online safety.
Long after this project phased out in 2021, OMT team continues to support and encourage teachers in the project participating schools and preschools to use AR, VR in the classrooms. The sustained impact of this project contributes to strengthening of Vietnam's national capacity to develop and manage inclusive, equitable and quality policies, programs and budgets for the integration of digital literacy and transferable skills into Viet Nam's education system.
---
---